Bunkie Life As Seen on TV - HGTV Canada
Bunkie Life's bunkie cabin was featured on HGTV Canada's "Family Home Overhaul"
Bubba & Vanessa Episode Aired on October 4, 2020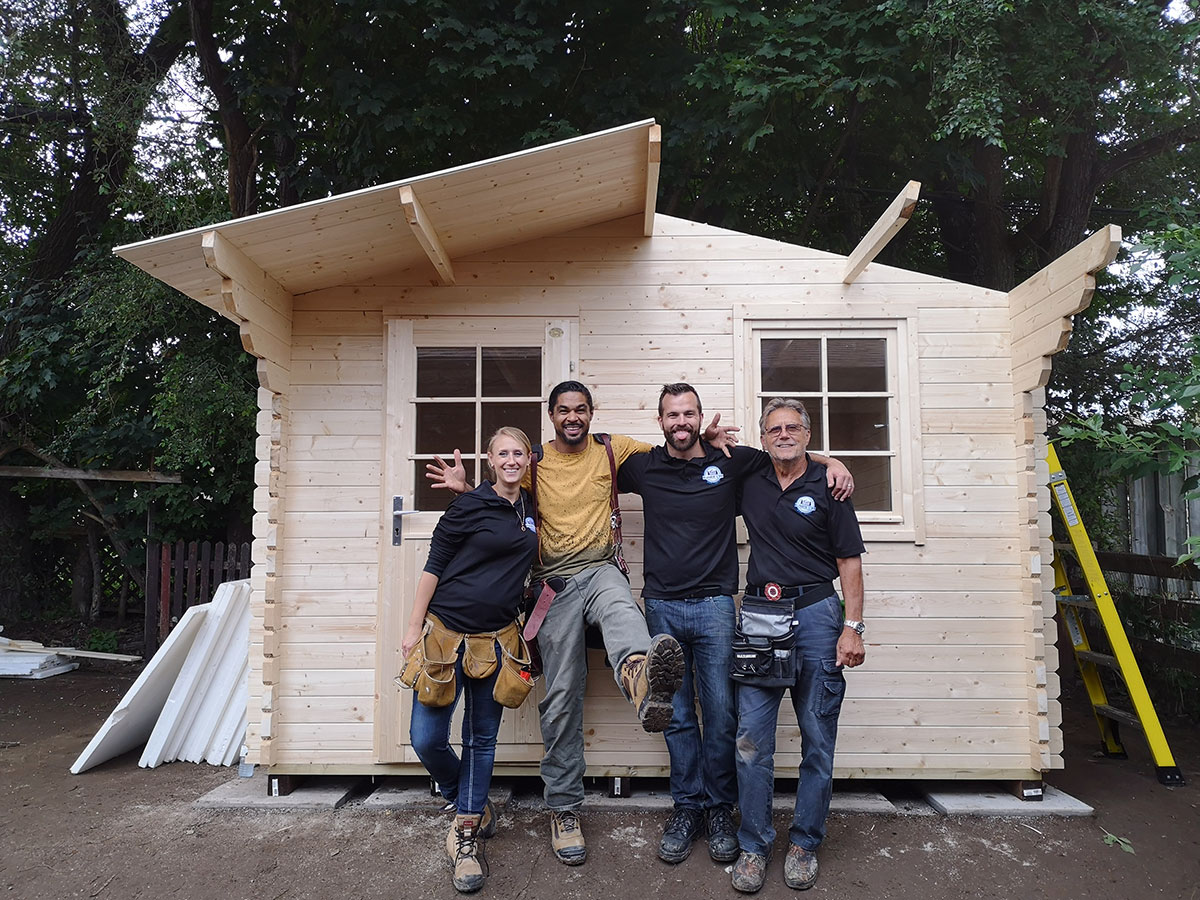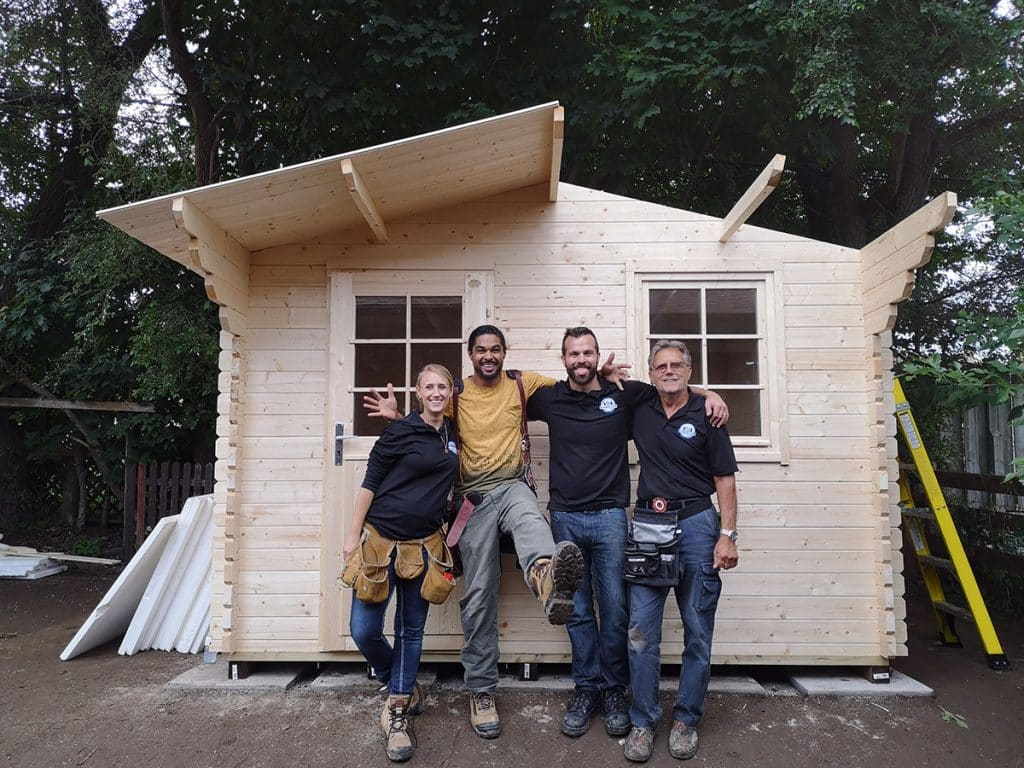 David and Karrie Fraser, owners of Bunkie Life with Karrie's Dad and Sebastian Clovis of "Family Home Overhaul"
Building a backyard bunkie for a community nominated homeowner in Toronto, Ontario on "Bubba & Vanessa"

HGTV CANADA – Bunkie Life was chosen to build a backyard bunkie for a family in Toronto, Ontario for the show 'Family Home Overhaul.'
Bunkie Life was approached by HGTV producers to work on the project.
"I was pleasantly surprised when they called us! It's cool to know that the HGTV people are also Bunkie Life Fans" says David Fraser, Owner of Bunkie Life.
The project took one full day to complete, then we returned to add the steel roof. David says working with a film crew was a super fun experience and everyone was great to work with. 
"It was fun working with the HGTV crew and when the Hamilton Tiger-Cats  football players showed up, we laughed the entire time" adds David.
In 'Family Home Overhaul', host Cheryl Hickey (ET Canada), introduces a family nominated by their community for always giving back despite any hardships they personally encounter. 
HGTV Canada's top contractors and designers meet the family, tour their property and learn exactly what is needed to transform their home. 
With the help of friends and neighbours, HGTV's contractors renovate the home to reflect each family's unique needs. It was really important that this family have some separate space for relaxation, so of course that meant a backyard bunkie from Bunkie Life!
A gallery of the show featuring a Bunkie Life bunkie (at the end) can be viewed online at: https://www.hgtv.ca/shows/family-home-overhaul/photos/sebastian-clovis-and-samantha-pynn-max-out-living-space-for-a-community-hero-1941952/ *Best viewed on a phone
Click to see all our Bunkie Life models or a gallery of bunkies all over Ontario.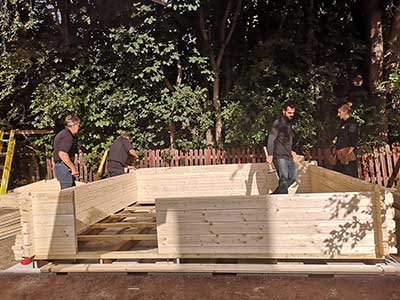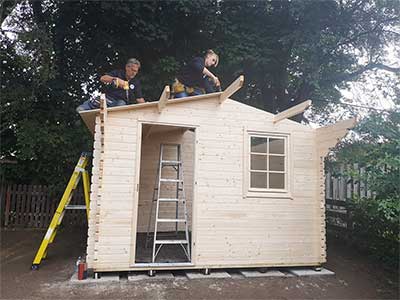 The Bunkie Life Story: David & Karrie Fraser buil their first bunkie in 2015 and loved them so much, they built 3 more and turned them into an Airbnb. Now they also offer cabin bunkie kits at the most reasonable price. Learn more about Bunkie Life cabin kits. Or learn more about Karrie & David and helpful advice on how to build a bunkie.
You could have extra space for family or friends to stay — just like us. Or use it as an home office or extra space for family or friends. Here is a gallery of people enjoying their bunkies all across Ontario.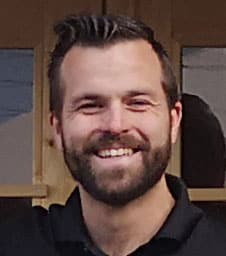 David Fraser, Owner of Bunkie Life - Erin, Ontario
Join over 24,000 people in the Bunkie Life Facebook Group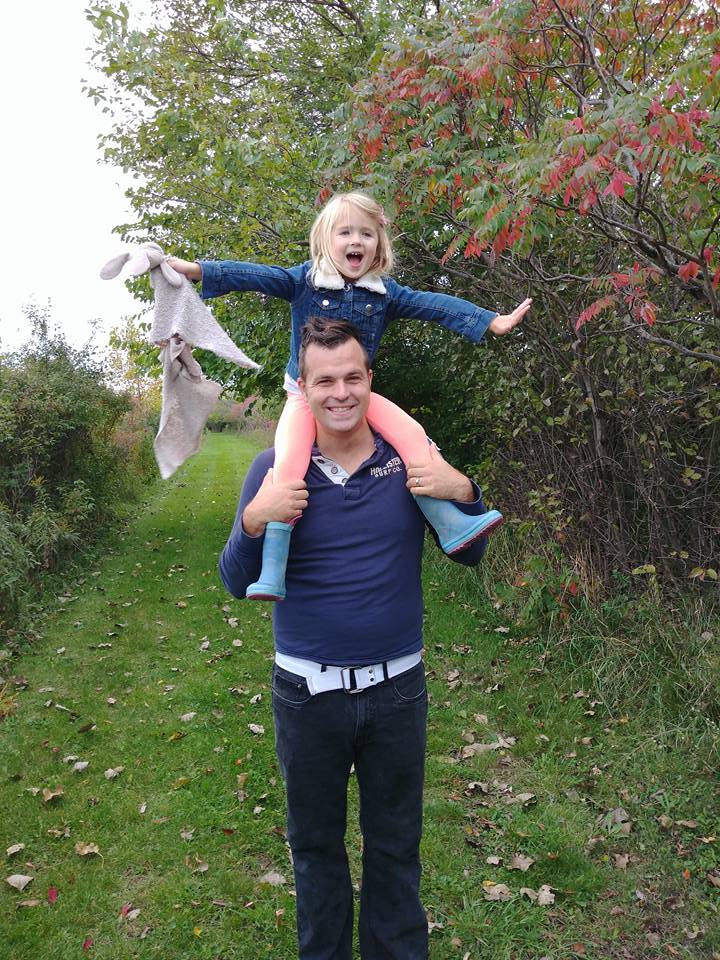 Do you have a few questions?  
Call me, David Fraser at 1-866-4BUNKIE or fill out this quick form. It goes directly to my inbox.
We are in the business of helping families create extra space on their property for more meaningful connection.