Bunkie Life Delivery Canada Wide
How much is delivery?
Ontario: We can deliver to most places in Ontario for around $500. This includes down to Sarnia, Windsor, up to North Bay, and east to Brockville. Delivery estimates (for any model):
– Guelph/Orangeville/Kitchener/nearby: $325
– Muskoka Area: $395
– Outside of that: +$125/hour
BC: We can generally deliver within 4 hours of Vancouver (mainland), Comox (island), or Kelowna for $600 or less. Deliveries beyond that are $150/hour. Island deliveries on any, other than Vancouver Island are billed at $150/hour plus ferry fees.
For AB, MB, SK, NS, NB, NL, PEI: We deliver to major cities in Canada by dock to dock shipping (trucking terminal to trucking terminal) for around $1000. We ship to a trucking loading dock nearest you and then you would be responsible for picking it up from there or arranging delivery from there. Our logistics company can quote out the final mile delivery to your door, so please contact us directly for that.
Quebec: There are a couple of delivery options for Quebec. Quebec has different regulations that prohibit many companies delivering from Ontario into Quebec and unfortunately, they do not recognize Ontario forklift licenses.
As a solution, we deliver near the Ontario/Quebec border, then customers rent or borrow a flatbed trailer, we fork the pallet onto the trailer, so it can be taken to the address in Quebec. Alternatively, we can deliver to a partner delivery company in Ottawa and they can deliver the final mile in Quebec. Please contact us directly for prices.
How do we deliver the bunkie?
This varies by location. In Ontario and BC we deliver bunkies via 24′ flatbed trailer, Hiab, or crane truck to your location. We try to group deliveries to keep costs down for everyone (these are the prices you see quoted above).
The delivery comes with a Moffet (all-terrain forklift) or crane to make offloading easy. We can drop the bunkie kit as close to your build site as possible.
How do you deliver water access only or island delivery?
We have a lot of customers who have water access only. There are basically two water delivery methods:
1) If it is going on a barge large enough we can drive the forklift onto the barge to drop the kit – then you just have to worry about offloading.
2) We can drop the pallets as close to your dock as possible and you can boat them over in a regular boat by opening up the pallet and hand-bombing it onto and off the boat. The great thing about our kits is that none of the pieces are too large to transport this way.
What is the size of the bunkie?
The bunkie kits vary depending on the model but typically the pallet is 14-16′ long x 4′ wide x 3.5′ high and weighs 2500-3500 lbs.
Can we pick up the bunkie?
You can pick up the bunkie, but 99% of clients in Ontario and BC opt for delivery due to its size and weight. The delivery company uses a Moffett or crane to get the bunkie as close to your build site as possible.
If you pick up the bunkie in Puslinch, ON you would need a flatbed trailer with no side walls whatsoever in order for us to be able to fork it onto the trailer for you. Otherwise, you would need to open the pallet and 'handbomb' the pieces into your mode of transport. We charge a $150 forklift fee for pick-ups.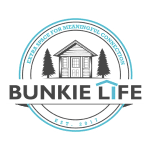 We deliver on a flatbed trailer and use a Moffett (all-terrain forklift)
We place the bunkie as close to your build site as possible
Lay out your pieces and enjoy the build! (or enjoy watching it being built)
Contact us if you have any questions
We're happy to help
1-866-4BUNKIE or david@bunkielife.com