Barrel Sauna
$8,995.00
Made in Canada • Handcrafted in Ontario
Build your own Barrel Sauna at your cottage or property from Bunkie Life's exclusive Barrel Sauna Kit.
This DIY Sauna Kit is made in Ontario and is an affordable and effective option when building a sauna.
Sauna seats 4-6 people
Made from Canadian Pine
Diameter: 77" (196 cm)
Total length: 119 3⁄4" (304 cm)
3 Windows: 1 window in the door, 2 side windows on front
2 beautiful wood benches inside
Approx. 60 sq ft inside
Porch area includes two more wooden benches: 23.6" (60 cm)
Sauna Kit also includes:
3 peg clothes hanger
Vent kit and cover
Steel Bands
Roof Membrane
Roof Boards
Screws for assembly
Includes a sauna heater: Harvia M3 Wood Heater, Harvia Sauna Stones, and Chimney Adapter
What isn't included:

Chimney flue pipe (after the Harvia wood heater and the chimney adapter). This should be purchased and installed by WETT Certified technician. Clients will also need to purchase a Heat Shield Mat to be placed under the wood heater (or other WETT certified non-combustible material).

Hole saw for where you run the heater flue.

Foundation: We recommend a level area for install. We recommend building a small platform, deck, or other to lift the sauna off the ground and away from any sitting groundwater.
Warranty: 2 year manufacturer warranty valid only when the manual and its requirements are followed.
Delivery: We deliver across Canada and USA. Read FAQs about delivery or contact us for a shipping quote.
Payment: We require a deposit to place your order and the remaining amount prior to delivery. We accept payment by email money transfer, direct deposit, credit card (3.5% fee applies), cash, cheque or Bitcoin.
Availability: 4-6 weeks
Questions? We are here to help. We are happy to answer any questions you may have.
Please call us at 1-866-428-6543 or fill out this quick form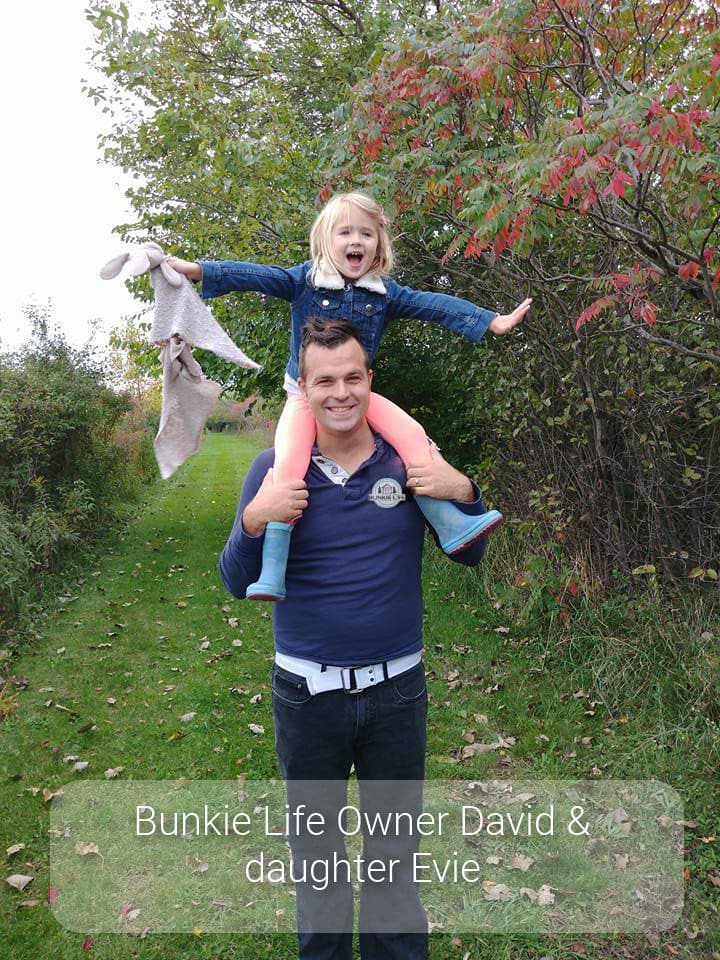 Are you thinking about building extra space on your property?

What we're famous for is helping families create extra space for more meaningful connections and quality time together.
Our small cabins called bunkies can be easily built in a weekend without a permit (in most areas) or a second mortgage. We proudly deliver across Canada and USA.
Call us at 1-866-428-6543 or fill out this quick form. We will get back to you soon.