2019 Bunkie no Loft
$6495.00
Whether you need extra space for your family or friends, a place to escape on your property, an office or studio, this easy-to-build bunkie is a perfect escape.
2019 Log Cabin Bunkie Kit no Loft includes:
Walls and door made from premium grade kiln-dried Northern Spruce; all wood is pre-cut and notched
2 double pane windows. 1 front window and 1 window in the door. You can open the large front window to let fresh air in. Some clients purchase extra windows for the side of the bunkie (as seen in these pictures).
Tongue and groove floor
Roof deck boards; add your choice of roofing
All hardware, including the door handle and lock
Trim is included
Easy to follow building instructions
Build the bunkie in 1-2 days or have it installed by a professional team
No building permit is required in Ontario (less than 108 sq. ft.); we advise you to confirm with your municipality. Contact us if you have any questions.
Take a 3D Tour of the 2019 Bunkie with No Loft in Virtual Reality


Click here to explore the bunkie as if you are really there.  You can click to look around anywhere you'd like.
Measurements: The external footprint of 2019 Bunkie no Loft is 129 29/32″ and the depth is 118 3/32″. The interior floor is ~101 sq ft. The peak of the roof is 96 13/32". The door is 33 3/32" by 76 29/32". The window is 30 3/32" by 38 29/32". The logs are 1 5/8" thick.
60 Day Money Back Guarantee: If you change your mind or are not fully satisfied with your cabin bunkie kit purchase within 60 days, we will refund your money, no questions asked.
5 Year Warranty: Your purchase is fully covered by our 5 year repair or replace warranty. This means we will pay to replace or repair any defects in materials or workmanship you may have with your bunkie.
We are here to help: We are happy to answer any questions you may have. Our goal is to make sure you enjoy the process of buying and building your bunkie from Bunkie Life.
Payment: We require a deposit of 50% and the remaining 50% due 3 days prior to delivery. We accept payment by cash, cheque, email money transfer, credit card (processing fee applies to CC payments). Or financing is available through Paybright. Call 1-877-276-2780 to see if you pre-qualify.
Delivery: We deliver bunkies in Ontario and Canada wide. We deliver on a flatbed trailer (bunkies are over 2500 pounds) and use a Moffett (all-terrain forklift) to get the bunkie as close to your build site as possible. Read FAQs about delivery or contact us for more details.
Installation: Most clients (80%) enjoy building their bunkies themselves – we provide manuals and instructional videos. See stories of happy clients building their bunkie. If you would prefer to have your bunkie fully installed, we have a list of installers (who can also build decks, etc). Contact us for more details.
Availability: Yes
Questions or prefer to phone us? Contact us
Please call us at 1-866-4BUNKIE, book a 30 minute chat or fill out this quick form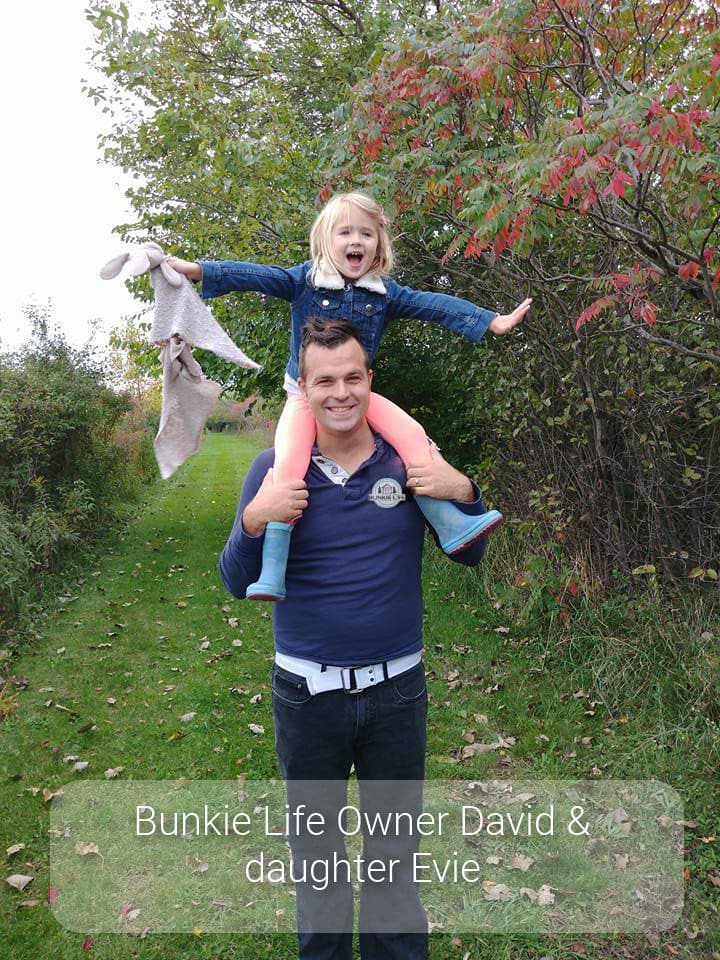 Do you have a few questions and want to talk to us first?  
Call us at 1-866-4BUNKIE or fill out this quick form.