Chalet Bunkie
$8995.00
Do you need extra space at your cottage or home? This bunkie is 10′ x 10′ (104.6 sq. ft.) with tall cathedral ceilings (over 11′) and ample space for bunk beds. Big opening windows for natural light and airflow and a highly requested cantilevered roof overhang provides shade for a front porch. All with a footprint of only 104.6 sq feet that feels so much bigger!
Chalet Bunkie includes:
Footprint: 122 ¾" x 122 ¾" 

Square Footage: 104.6 ft²

Height of Bunkie: 136.7"
48″ cantilevered overhang to provide maximum shade in front

Made from premium grade kiln-dried Northern Spruce

All wood is pre-cut, notched and interlocking

4 Double Pane Windows for energy efficiency: 2

long Front Windows on either side of the door (25″ x 60.1″) + 1 Side Double Window (51″ x 32.4″) + 1 Window in Door

Number of operating windows: 3 (include screens)

Extra windows can be added to the side wall or back wall (purchase separately)

Door: 34" x 80", Window in Door: 24″ x 30″

Pressure-treated floor sleepers

Tongue and groove wooden floor boards and roof deck boards

Premium window and door hardware, including keyed door knob

Kit includes screws and nails

Snow load rated for the northernmost parts of Ontario

Engineer stamped drawing available if permit application is required (nominal fee)

Manufactured in our factory in Rockwood, ON
We recommend checking with your municipality on the local bylaws and setback requirements before starting your project.
Installation: Most clients (80%) enjoy building their bunkies themselves – we provide easy to follow installation manuals and video aid. See stories of happy clients building their bunkies. If you would prefer to have your bunkie installed, we recommend a local contractor, landscape or decking company or contact us for a list of contractors who have installed bunkies for other clients. You will need to add a foundation, metal or shingle roofing, and stain.
Are the bunkies winterized? The bunkies are great as is for 3-3.5 seasons. We recommend adding insulation under the floor and roof when building and adding a heat source to enjoy them in colder months. Here is more information on how to insulate a bunkie and how to heat to a bunkie.
60 Day Money Back Guarantee: If you change your mind or are not fully satisfied with your bunkie kit purchase within 60 days, we will refund your money, no questions asked.
5 Year Warranty: Your purchase is fully covered by our 5 year repair or replace warranty. This means we will pay to replace or repair any defects in materials or workmanship you may have with your bunkie.
We are here to help: We are happy to answer any questions you may have. Our goal is to make sure you enjoy the process of buying and building your bunkie from Bunkie Life.
Payment: We require a deposit of 50% and the remaining 50% due 3 days prior to delivery. We accept payment by email money transfer, direct deposit, credit card (3% processing fee applies), cash, cheque or Bitcoin.
Delivery: We deliver bunkies in Ontario and Canada wide. We most often deliver on a flatbed trailer (bunkies are over 2500 pounds) and use a Moffett (all-terrain forklift) to get the bunkie as close to your build site as possible. Read FAQs about delivery or contact us for more details.
Contact Us
Would you like to see the bunkies in person? Book Factory Tour in Rockwood, ON
Would you like to see our bunkies but Rockwood, ON is too far away? Book 1:1 Video Tour and Info Session
Want to ask us more questions? Book Phone Call with Bryn
Questions or prefer to phone us? 
Please call us at 1-866-4BUNKIE or fill out this quick form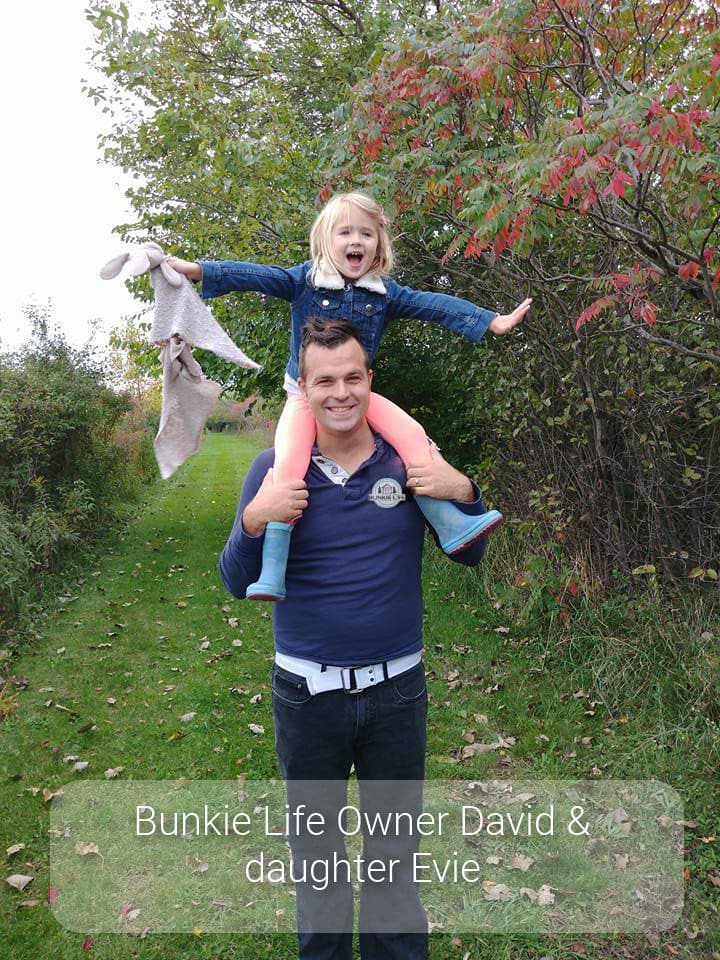 Do you have a few questions and want to talk to us first?  
Call us at 1-866-4BUNKIE or fill out this quick form.