Insulated Bunkie
$21995 – $29995
Do you need an insulated bunkie? We're very excited to introduce the new Bunkie Life Insulated Bunkie. This bunkie is 4 season ready and is 107 sq. ft. of fully insulated extra space.
If you want beautiful extra space on your property that you can use at any time of the year, this is the bunkie for you. Use it as a cabin, guest space, home office, or studio, suitable for all 4 seasons in Canada.
Bunkie Life 4 Season Insulated Bunkie includes:
The structure, insulation, and the vapor barrier all in one
88% more efficient when compared to wood
No thermal bridging
Includes foundation, installation, exterior finishing, and metal roof (solar panels in video not included but are available)
Interior unfinished to make electrical wiring easy with the help of our pre-cut wire channels
Sliding patio door with sidelight windows
Double pane glass door and windows
Top 3 windows (30′ x 16″) for even more natural light – two fixed and one opening
All hardware, including door handle and lock
We build for you with Bunkie Life approved installers
Year round installation available
No building permit is required in Ontario (less than 108 sq. ft.); we advise you to confirm with your municipality. Contact David if you have any questions.
Take a 3D Tour of the Bunkie Life Insulated Bunkie


Click here to watch a 3D tour of the Insulated Bunkie.
Measurements:  Exterior is 11′ 11″ x 9′  (107 sq. ft.) . Overall height, approx 13′. The interior floor space of the Insulated Bunkie is 11′ 2″ x 8′ 3″ (92 sq. ft.). The walls are 4 1/2″ thick + thickness of exterior / interior cladding (varies).  Top three windows are 30″ x 16″ each.  Sliding patio door is 70 3/4″ x 79 1/2″.  Two sidelight windows are 12″ x 72″ each.
5 Year Warranty: Your purchase is fully covered by our 5 year repair or replace warranty. This means we will pay to replace or repair any defects in materials or workmanship you may have with your bunkie.
We are here to help: We are happy to answer any questions you may have. Our goal is to make sure you enjoy the process of buying and building your bunkie from Bunkie Life.
Installation:  This model includes installation in the price. Installation must be done by a certified Bunkie Life installer.
Payment: We accept payment by E-Transfer, Cheque or Credit Card (fees apply).
Availability: Contact us to get more details on the Insulated Bunkie. The price ranges from $21,995 to $29,995 depending on the finishes. Please call us directly at 1-866-4BUNKIE or fill out this quick form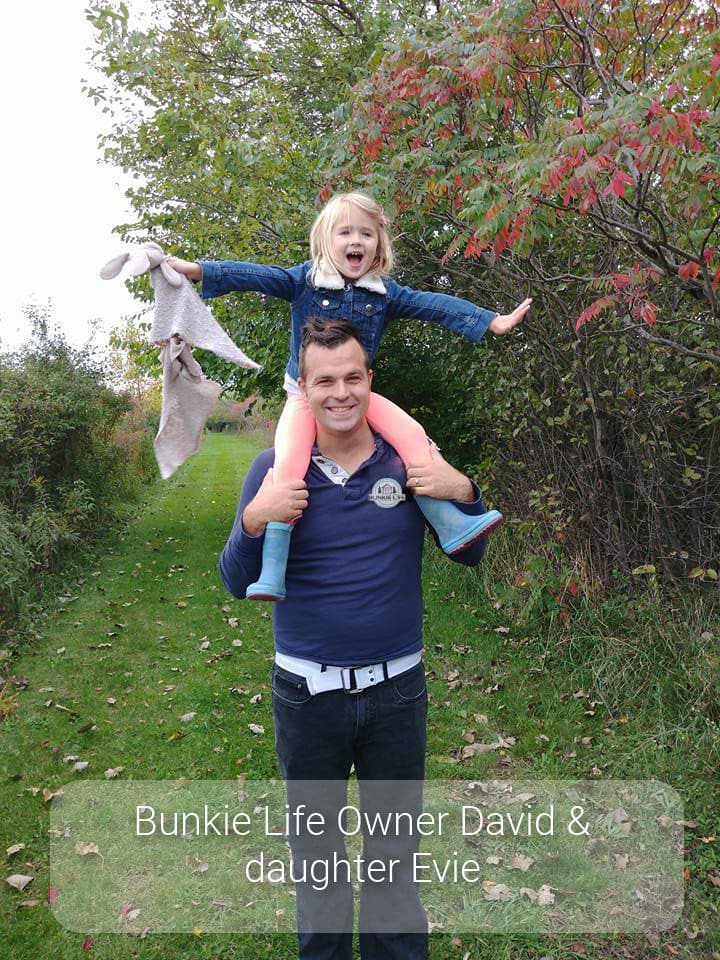 Do you have a few questions and want to talk to me first?  
Call me, David Fraser at 1-866-4BUNKIE or fill out this quick form. It goes directly to my inbox.
We are in the business of helping families create extra space for more meaningful connection.