2018 Bunkie with Loft
$7995.00
This bunkie debuted in 2018 and is our smallest bunkie with a loft.

2018 Log Cabin Bunkie Kit includes:
Walls and door made from kiln-dried Northern Spruce; all wood is pre-cut and notched
The main area plus loft includes a movable wooden access ladder
5 single pane windows (other loft models are double pane): 3 on main level, 2 at loft height. 3 windows open to let the fresh air in; 1 on side, 2 at loft height.
Tongue and groove floor
All hardware, including the door handle and lock
Trim is included
Easy to follow building instructions
Build the bunkie in 1-2 days or have it installed by a professional team
No building permit is required in Ontario (less than 108 sq. ft.); we advise you to confirm with your municipality. Contact David if you have any questions.
Measurements: The exterior width of the 2018 Bunkie with Loft is 110 1/4" and the exterior depth is 110 1/4". Height of the bunkie is 146 1/2". Height in loft to peak is roughly 48″. Depth of the Bunkie, including the loft overhang, is 149 3/4". Interior ground floor is 82 sq. ft. and the loft is ~ 45 sq. ft. Door measures 28" wide x 68.5" high.  Two windows on front are 24" wide x 50" high. Two loft windows are 15 1/8″ x 15 1/8″. Two side windows are 29 1/16″ x 25 1/16". The logs are 1 5/8" thick.
60 Day Money Back Guarantee: If you change your mind or are not fully satisfied with your cabin bunkie kit purchase within 60 days, we will refund your money, no questions asked.
5 Year Warranty: Your purchase is fully covered by our 5 year repair or replace warranty. This means we will pay to replace or repair any defects in materials or workmanship you may have with your bunkie.
Availability: Pre-order for Spring 2022 delivery • Wondering how the models differ? See the Bunkie Comparison Chart
Questions or prefer to phone us? Contact us
Please call us at 1-866-4BUNKIE or fill out this quick form
Available on backorder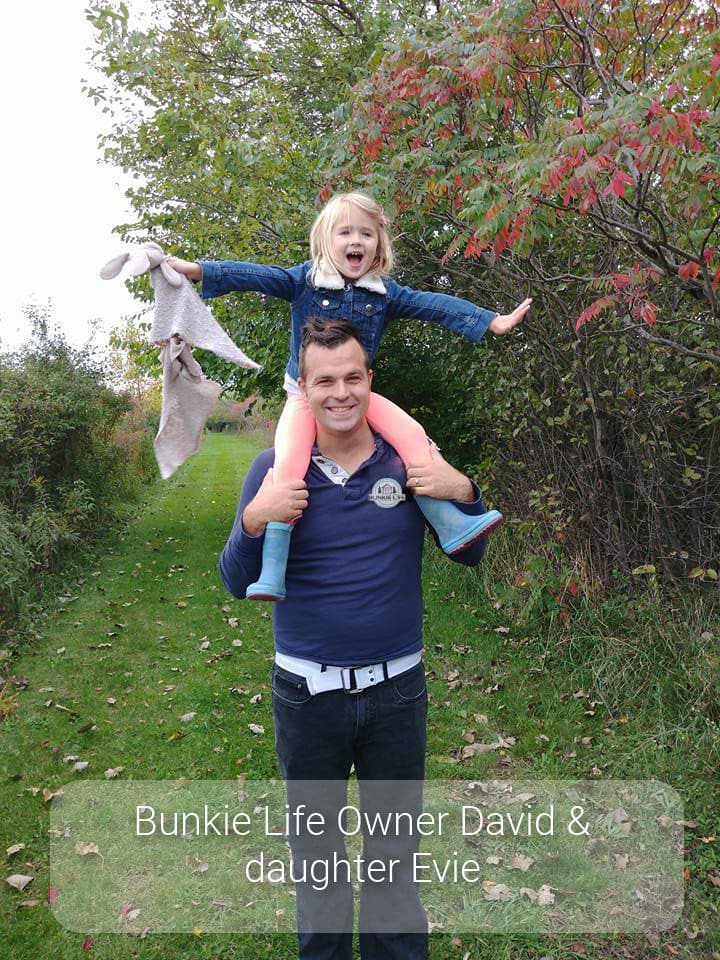 Do you have a few questions and want to talk to us first?  
Call us at 1-866-4BUNKIE or fill out this quick form.