We're famous for log cabin bunkie kits that can be easily built in a weekend without a permit or a second mortgage. 
Cottage Bunkies & Backyard Bunkies
We're famous for log cabin bunkie kits that can be easily built in a weekend without a permit or a second mortgage. 
Cottage Bunkies & Backyard Bunkies
Do you need extra space? A bunkie is a perfect solution. Whether it be at your cottage or home, our bunkie kit can be assembled in 1-2 days and will provide you with 108 square feet of living space. It's easier to assemble (than building from scratch) and it comes with all the necessary hardware needed to put it together.
Our bunkie kits are ideal for a cottage bunkie, backyard bunkie, home office, studio or anything you need extra space for. We provide instructions to build it yourself or we can install it for you. No building permit is required in Ontario or BC (but we always recommend to check with your municipality).
We built our first bunkie in 2015. We loved it so much, we built five more. Now, we manufacture the best bunkie kits for the most reasonable price. We hope you will enjoy them as much as we do.
David Fraser
Owner of Bunkie Life
Erin, Ontario
Bunkies are the best way to build extra space at your cottage or property.
You can have extra sleeping space for family or friends, a home office, a private getaway to enjoy your favourite area on your property or a studio.
Earn money from a bunkie by turning it into an Airbnb. Learn more about starting your own Airbnb bunkie.
A bunkie is a getaway for adults or teens, a playhouse for your grandkids, or a private spot for writing or reading.
The possibilities are endless and the best part is you can build a bunkie in 1-2 days.
Bunkie Life must-have features:
Interlocking wooden logs made from premium grade Northern Spruce; an attractive, high-quality softwood for durable construction

Double pane windows to let natural light and fresh air in

Spacious main area so you can fit a queen size bed and more
Models with a loft fit another queen mattress
Wooden access ladder to the loft
Tongue and groove floor boards
Roof deck boards; add your own choice of roof, shingles or metal
All the hardware comes in the kit so you don't have to run to the store
No power tools required
Easy to follow building instructions, videos and written
We are here to help you. We are happy to answer any questions you may have.
For ease of payment, we require a 50% deposit to place your order and the remaining 50% three days before delivery.
We have a 60 day money back guarantee. If you change your mind or are not fully satisfied with your cabin bunkie kit purchase within 60 days, we will refund your money, no questions asked.
Your purchase is fully covered by our 5 year repair or replace warranty. This means we will pay to replace or repair any defects in materials or workmanship you may have with your bunkie.
Take a Walkthrough Tour or Virtual Tour Inside Bunkies
Take a walkthrough tour with David Fraser inside the bunkies.
Explore the bunkies in 3D virtual reality, as if you're really there. 
Frequently Asked Questions
Do I Need a Building Permit To Build a Bunkie On My Property?
A building permit is not required for a structure occupying less than ten square metres (108 square feet), based on the Building Code Act, 1992. We recommend to check with your Municipality.
How Do I Build A Foundation?
We explain an effective way to build a foundation for your bunkie.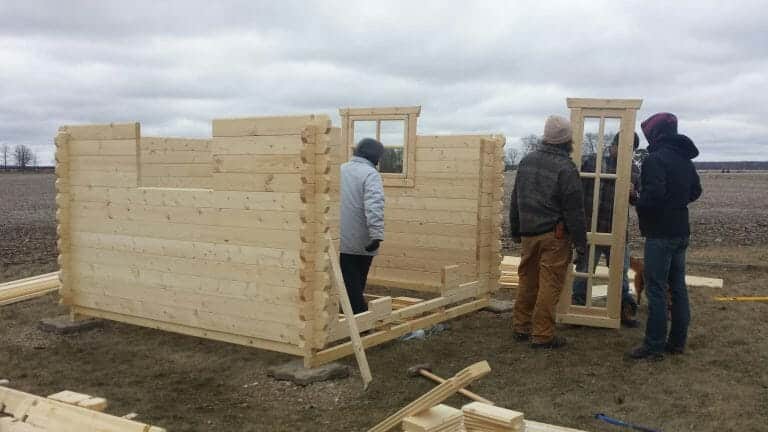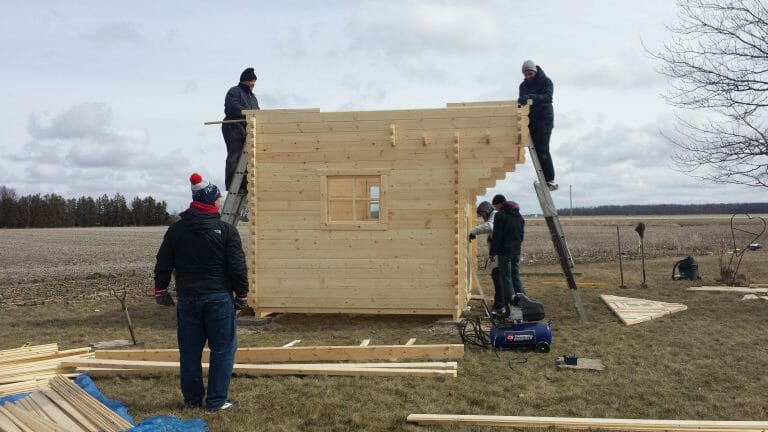 How Do I Stain the Bunkie?
David discusses the best way to stain your bunkie for long-lasting results.   
We deliver bunkie kits all over Ontario and Canada. If you live in Ontario, you could pick up your bunkie kit in Puslinch, ON but most people choose to have their bunkie delivered to their cottage or property.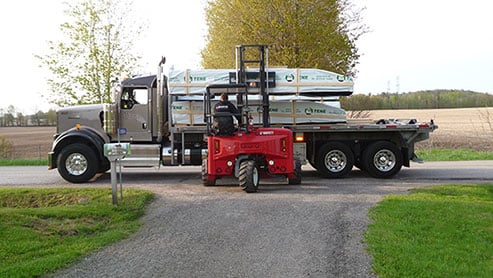 Yvette Farkas
Haliburton, Ontario
Awesome team, great product, exceptional customer service. Both times I called for clarification or advice while building, the owner himself answered and took the time to explain everything as well as follow up with email links to videos and further drawings. Super nice people who really stand behind their product and WANT to hear from you. They also follow up to make sure you are loving your bunkie after the build and ask if you have suggestions for improvement or other preferences. It's also great seeing what other customers have done and get further inspiration for your own build. Wonderful down-to-earth, community vibe! Loving my bunkies!

Luis Oliver
Ottawa, Ontario
Bunkie Life is really a great company. David and Karrie are consistently friendly, competent and helpful. They responded quickly and thoroughly whenever we had a question, and were very accommodating. No issues with delivery. The cabin itself is exactly as advertised, and we are very happy with it. Would definitely recommend them and may order again in the future!

Glenn Gillie
South Frontenac, Ontario
We purchased the 2019 loft bunkie for additional sleeping space at our cottage on the lake. David was nice enough to spend an hour with us, touring the models he had available on-site. Honestly the delivered product exceeded all my expectations. The wood was straight, clear and planed absolutely true and smooth. All the milling was perfect and the bunkie went up exactly as the instructions pointed out. Perfect joints, perfect fit, and extremely easy to assemble. I wouldn't change a thing, and would have absolute confidence in recommending this product to the Queen of England! Congratulations David on an exceptional product and company.
Join over 38,000 people in our Bunkie Life Facebook group. We feature bunkies, how-to's and keep you up to date on special offers.