Cottage Bunkies & Backyard Bunkies
Cabin bunkies are the best way to give you extra space at your cottage or in your backyard.

You can have extra sleeping space for family or friends at the cottage, a private getaway to enjoy your favourite area on your property or a studio for your art, crafts or music.
Earn money from one by turning it into an Airbnb. Check out our Airbnb bunkies in Erin, Ontario.
Or use it as a getaway for your teens, a playhouse for your grandkids, or a private spot for writing or reading.
The possibilities are endless and the best part is you can build it in 1-2 days.
Bunkie Life must-have features:
Interlocking wooden logs made from Nordic Spruce; an attractive, high-quality softwood for durable construction
Windows to let natural light in
Spacious main area so you can fit a queen size bed and more
Models with a loft fit another queen mattress
Wooden access ladder to the loft
Tongue and groove floor boards
Roof deck boards; add your own choice of roof, shingles or metal
All the hardware comes in the kit so you don't have to run to the store
Easy to follow building instructions- vidoes and written
No power tools are required
We are here to help you. We are happy to answer any questions you may have.
For ease of payment, we require a 50% deposit to place your order and the remaining 50% upon delivery.
We also have a 60 day money back guarantee.
If you are not fully satisfied with your purchase within 60 days, we will refund your money.
Most importantly, we stand by our bunkies for 5 years after purchase. This means we will pay to replace or repair any issues you may have with your bunkie for 5 years.
Do you need extra space? A bunkie kit is an easier way to build a backyard bunkie, cottage bunkie, office, studio or anything you can imagine with extra space.
Windows bring in a lot of natural light, there is a large main area, some models have a loft, and your new space takes only 1-2 days to build. No building permit is required in Ontario.
We purchased our first bunkie in 2015. We loved it so much; we now own four. Next, we researched the market and found the best bunkie kits for the most reasonable price. We hope you will enjoy them as much as we do.
David Fraser, Owner of Bunkie Life - Erin, Ontario
WATCH HOW EASY IT IS TO BUILD A BUNKIE
Randy, Jim and Brent install the walls of a Bunkie Life bunkie in Petrolia, ON
3D View Inside the Bunkie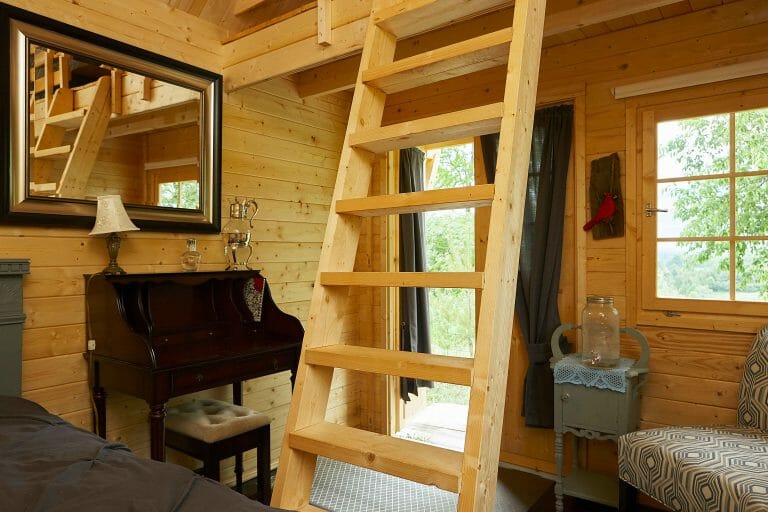 FREQUENTLY ASKED QUESTIONS
Do I Need A Building Permit To Build A Bunkie On My Property?
David Fraser explains that a building permit is not required for a structure occupying less than ten square metres (108 square feet), based on the Building Code Act, 1992. In this video, he recommends contacting your Municipality to find out where to put it on your property.
How Do I Build A Foundation?
David Fraser explains an easy and economical way to build a foundation for your Cabin Bunkie with cinder blocks and wood.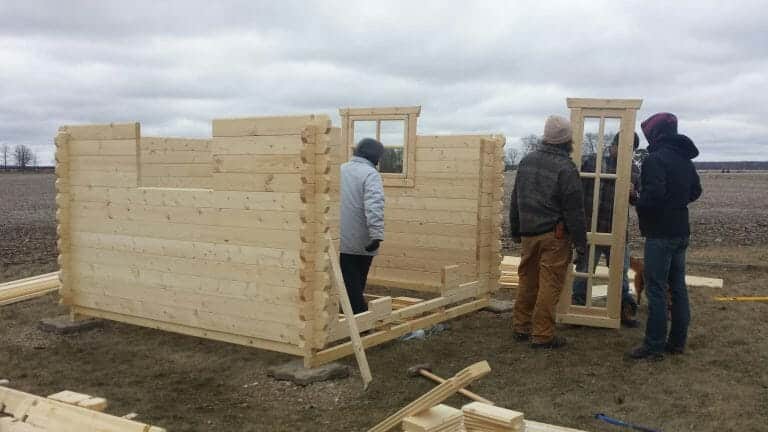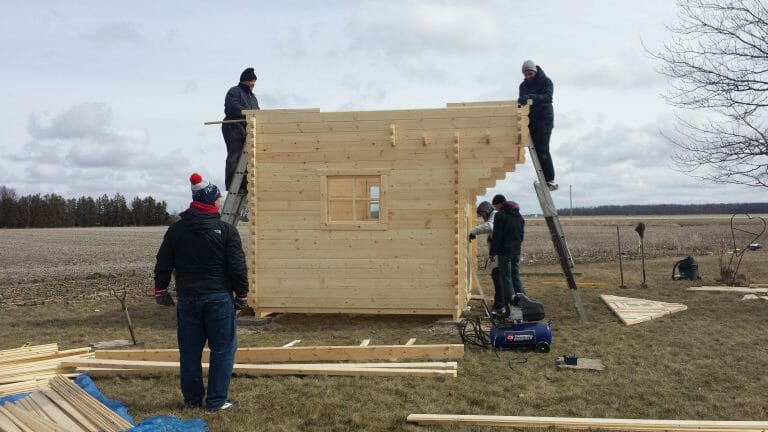 Should I Paint Or Stain the Bunkie? How often do I need to re-treat it?
David Fraser interviews Jennifer, a paint and stain expert from Timber Mart in Hillsburgh, ON to answer your questions about paint or stain.
David Fraser explains how you can get a bunkie delivered to your home or cottage. Bunkie Life could deliver it or you can pick it up. David describes the type of trailer you would need to pick it up.
This February 2019
over 36,000 people from all over Ontario
participated in our Win a $6000 Log Cabin Bunkie Contest

Gail K. from Sturgeon Falls, ON won a $6000 Log Cabin Bunkie. Congratulations Gail!